A Content-Based Analysis of Jamshid Najafi's Azerbaijani Turkish Songs Tested Against Linguistic and Literary Themes
Mostafa Shahiditabar

Imam Sadiq University, I.R. Iran

Mohammad Amin Mozaheb

Imam Sadiq University, I.R. Iran

Mehdi Fatemi

Imam Sadiq University, I.R. Iran
Keywords:
Jamshid Najafi, Azerbaijani Turkish Poems, content-based analysis
Abstract
Jamshid Najafi is an Iranian Azerbaijani Turkish and Farsi singer. The present study aims to analyze some of his songs in terms of literary themes. The corpus of the current study is Jamshid Najafi's Azerbaijani Turkish songs released by the permission of the Iranian Ministry of Culture and Islamic Guidance. Moreover, a content-based analysis approach is used to analyze the corpus. The analysis of the data shows that Najafi is a romantic singer whose Azerbaijani Turkish songs are replete with romantic images as well as themes. Mother is the next frequent theme found in Jamshid Najfi's works. It shows that mother has a holy position in Azerbaijani culture. Criticism of life and nostalgic themes are the next themes found in the studied corpus. Sister, child, homeland, devotee and religion are other common themes in Jamshid Najafi's songs that show the importance of these themes to his life and ideology.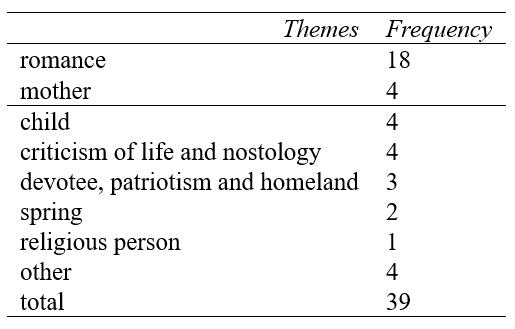 This work is licensed under a Creative Commons Attribution 4.0 International License.
Copyright for this article is retained by the author(s), with first publication rights granted to the journal.
This is an open-access article distributed under the terms and conditions of the Creative Commons Attribution license (http://creativecommons.org/licenses/by/4.0/).