Agritourism - Sustainable Tourism Trend in Ben Tre Province, Vietnam
Ngan Thi Phan

The Faculty of Tourism and Vietnamese Studies, Nguyen Tat Thanh University, Ho Chi Minh City
Keywords:
Tourism, agritourism, sustainability, rural
Abstract
Tourism and agriculture represent two of the world's largest economic industries. The combination of these two areas is critical to maximize the contribution of local tourism and economic development. Agri-tourism is an increasingly popular form of the tourism industry and may be soon one of the largest tourism sectors in a number of countries.
Agri-tourism is a suitable tool to balance the needs of tourists with the needs of rural communities, is a sustainable tourism trend that creates real opportunities for economic and social development and also minimizing undesirable impacts on the environment. Ben Tre with indigenous resources is very convenient to develop agricultural tourism. This will be a new livelihood option to both improve the rural economy and respond to the impacts of climate change on agriculture.
References
Barbieri, C., & Mshenga, M. (2008). The role of the firm and owner characteristics on the performance of agritourism farms. Sociologia Ruralis, 48. https://doi.org/10.1111/j.1467-9523.2008.00450.x
Doan Thi My Hanh (2019), Creating an image of the destination "Coconut Country" with culinary tourism products, Lac Hong Science Journal, 6.
Hegarty, C., & Przezbórska, L. (2005). Rural and agri-tourism as a tool for reorganising rural areas in old and new member states – a comparison study of Ireland and Poland, International Journal of Tourism Research, 7(2). https://doi.org/10.1002/jtr.513
Japan International Cooperation Agency. (2016). The preparatory survey for Ben Tre water management project.
Kalyan Mandi et al., (2019). Agro Tourism: Exploring New Avenues In Rural India, Science for Agriculture and Allied Sector, 1(1).
Khoi Nguyen (2021). Banh Trang My Long, Banh Phong Son Doc, Vietnam Craft Village Magazine, No. 6-8.
Maria, G. P., Alessandra, F., & Neil, R. (2020). Agritourism, Wine Tourism, and Craft Beer Tourism: Local Responses to Peripherality Through Tourism Niches, Routledge.
Michał, S., Lucyna, P., & Frank, S. (2009). Agritourism, CAB.
Ministry of Culture, Sports and Tourism. (2019). Project "Rural tourism development associated with building a new countryside".
Neda, Tiraieyari & Azimi, H. (2012). Agri-tourism: Potential opportunities for farmers and local communities in Malaysia, African Journal of Agricultural Research, 7(31). https://doi.org/10.5897/AJARx11.035
Ngo, An, Phan Thanh Au, & Nguyen Thi Diem Tuyet (2018). Development strategy of ecotourism in Ben Tre bird sanctuary nature reserve until 2022, Van Hien University Journal of Science, 6(2). https://doi.org/10.47800/PVJ.2021.02-02
Nguyen Hoang Anh (2020). Analysis of the implementation of agricultural restructuring in Ben Tre province towards increasing added value and sustainable development. Industry and Trade Journal, 12.
Nguyen Thi Thuy & fellow workers (2010). Study on the use of nectar from coconut tree for high sugar and alcohol production. Summary report for the topic at Ministry level.
Nguyen Van Dinh, Cao Thi Sen & Nguyen Thi Lua (2019). Solutions to develop coconut products in Ben Tre. Journal of Science and Development Economics, 7.
People's Committee of Ben Tre Province (2018). Ben Tre - Potential and investment opportunities, Publisher Thong Tan.
Pham Hong Thai (2020). Factors affecting international tourist satisfaction and intention to return to destination: case study of Ben Tre province. Journal of Science, Tra Vinh University, 37. https://doi.org/10.35382/18594816.1.37.2020.372
Recep Efe, & Münir Öztürk (2014). Tourism, Environment and Ecology in the Mediterranean Region, Cambridge.
Richard Sharpley & Julia Sharpley (1997). Rural Tourism: An Introduction, International Thomson Business.
S. Phillip, Colin Hunter, K. Blackstock, 2010, A typology for defining agritourism. Tourism Management, 31. https://doi.org/10.1016/j.tourman.2009.08.001
Tomás F. Espino-Rodríguez (2019). Sustainable Directions in Tourism, MDPI.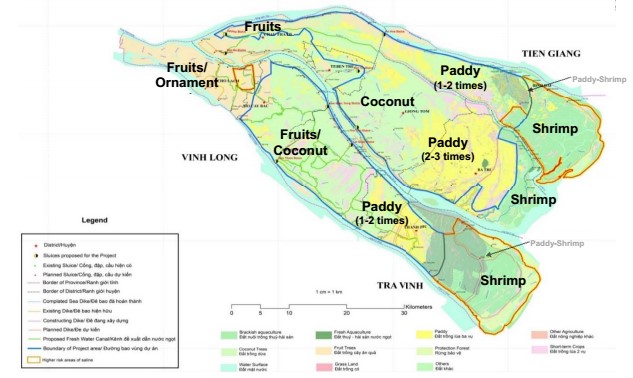 This work is licensed under a Creative Commons Attribution 4.0 International License.
Copyright for this article is retained by the author(s), with first publication rights granted to the journal.
This is an open-access article distributed under the terms and conditions of the Creative Commons Attribution license (http://creativecommons.org/licenses/by/4.0/).