Impact of the Corona Pandemic on Household Welfare in Cameroon
Joachem Meh BIN

Faculty of Economics and Management, University of Bamenda, Cameroon

Moses A. Ofeh

Higher Teacher Training College Bambili, University of Bamenda, Cameroon

Sergeo Beng CHE

Faculty of Economics and Management, University of Yaoundé II-Soa, Cameroon
Keywords:
COVID-19, Household welfare, Linear regression model, Heckman sample selection bias, Cameroon
Abstract
The objective of this study was to examine the effect of the Corona Virus Disease (COVID-19) on household welfare in Cameroon. This was done using data from a survey of 264 households in Cameroon in 2020. A linear regression model and Heckman sample correction bias were used and the results showed that COVID-19 reduces household welfare in Cameroon. These findings have implications of reducing the impact of COVID-19 on household welfare if households should develop new sources of income and food strategies by engaging more on agricultural activities and government can take a strategy of allocating grants either by reducing the cost of necessities (water, electricity, foodstuff, and housing). The triple helix approach where government, institutions of technology, and businesses should develop a vaccine for the pandemic to bring back economic life to normal.
References
Arndt, C., & Lewis, J. D. (2001). The HIV/AIDS Pandemic in South Africa: Sectoral Impacts and Unemployment. Journal of International Development, 13(4), 427-449. https://doi.org/10.1002/jid.796
Atkeson, A. (2020). What will be the Economic Impact of COVID-19 in the US? Rough Estimates of Disease Scenarios, National Bureau of Economic Research (NBER) Working Paper 26867, 1050 Massachusetts Avenue Cambridge. https://doi.org/10.3386/w26867
Baldwin, R., & Weder, B. D. M. (2020). Economics in the Time of COVID-19, Centre for Economic Policy Research-CEPR Press ISBN: 978-1-912179-28-2, 33 Great Sutton Street London.
Bell, C., Devarajan, S., & Hersbach, H. (2004). Thinking about the long-run economic costs of AIDS, in The Macroeconomics of HIV/AIDS, M. Haacker (eds). Washington DC., IMF: 96-144.
Bhargava, A., et al. (2001). Modeling the Effects of Health on Economic Growth. Journal of Health Economics 20(3), 423-440. https://doi.org/10.1016/S0167-6296(01)00073-X
Bloom, D. E., & Sachs, J. D. (1998). Geography, Demography, and Economic Growth in Africa. Brookings Papers on Economic Activity, (2), 207-273.
Bloom, E., V. D. W., et al. (2005). Potential economic impact of an Avian Flu pandemic on Asia. ERD Policy Brief Series No. 42, Asian Development Bank, Manila. Retrieved from http://www.adb.org/Documents/EDRC/Policy_Briefs/PB042.pdf
Congressional Budget Office (CBO, 2005). A Potential Influenza Pandemic: Possible Macroeconomic Effects and Policy Issues, CBO Washington DC.
Cuddington, J. T., & Hancock, J. D. (1994). Assessing the Impact of AIDS on the Growth Path of the Malawian Economy. Journal of Development Economics, 43(2), 363-368. https://doi.org/10.1016/0304-3878(94)90013-2
Cuddington, J. T., & Hancock, J. D., et al. (1994). A Dynamic Aggregate Model of the AIDS Epidemic with Possible Policy Interventions. Journal of Policy Modeling, 16(5), 473-496. https://doi.org/10.1016/0161-8938(94)90024-8
Haacker, M., Ed. (2004). The Macroeconomics of HIV/AIDS. IMF, Washington DC.
Heckman, J. (1979). Sample selection bias as a specification error. Econometrica, 47(1), 153-162. https://doi.org/10.2307/1912352
International Labor Organization (ILO, 2020). COVID-19 and the world of work: Impact and policy responses. Retrieved from http://ilo.org/global/topics/coronavirus
McKibbin, W., & Sidorenko, A. (2006). "Global Macroeconomic Consequences of Pandemic Influenza" Lowy Institute Analysis, February, 100 pages.
McKibbin, W., & Sidorenko, A. (2009). "What a Flu Pandemic Could Cost the World", Foreign Policy, April. Retrieved from https://foreignpolicy.com/2009/04/28/what-a-flu-pandemic-could-cost-the-world/
McKibbin, W., & Fernando, R. (2020). The Global Macroeconomic Impacts of COVID-19: Seven Scenarios, Centre for Applied Macroeconomic Analysis (CAMA) of the Australian National University Working Paper 19/2020 February 2020. https://doi.org/10.1162/asep_a_00796
Meltzer, M. I., & Cox, N. J., et al. (1999). The economic impact of pandemic influenza in the United States: priorities for intervention. Emerging Infectious Diseases, 5(5), 659-671. https://doi.org/10.3201/eid0505.990507
OECD. (2020). OECD Economic Outlook, Interim Report March 2020, OECD Publishing. Retrieved from http://www.oecd.org/newsroom/global-economy-faces-gravest-threat-since-the-crisis-as-coronavirus-spreads.htm
Robalino, D. A., & Voetberg, A., et al. (2002b). The Macroeconomic Impacts of AIDS in Kenya Estimating Optimal Reduction Targets for the HIV/AIDS Incidence Rate. Journal of Policy Modeling, 24(2), 195-218. https://doi.org/10.1016/S0161-8938(02)00097-2
Robalino, D. A., & Jenkins, C., et al. (2002a). The Risks and Macroeconomic Impact of HIV/AIDS in the Middle East and North Africa: Why Waiting to Intervene Can Be Costly. Policy Research Working Paper Series: 2874, 2002. https://doi.org/10.1596/1813-9450-2874
Tang, B., Wang, X., Li, Q., Bragazzi, N. L., Tang, S., & Xiao, Y., et al. (2020). Estimation of the Transmission Risk of the 2019-nCoV and Its Implication for Public Health Interventions. J Clin Med., 9(2). PubMed PMID: 32046137. https://doi.org/10.3390/jcm9020462
The World Bank. (2006). Socioeconomic Impact of HIV/AIDS in Ukraine, The World Bank and the International HIV/AIDS Alliance in Ukraine and Washington D.C. Retrieved from http://siteresources.worldbank.org/INTUKRAINE/Resources/328335-1147812406770/ukr_aids_eng.pdf
United Nations Economic Commission for Africa (UNECA, 2020). Economic Impact of the COVID-19 on Africa, Addis Ababa, Ethiopia March 13, 2020.
Viscusi, W. K., & Hakes, J. K., et al. (1997). Measures of Mortality Risks. Journal of Risk and Uncertainty, 14(3), 213-233. https://doi.org/10.1023/A:1007799508646
Wang, C., Horby, P. W., Hayden, F. G., & Gao, G. F. (2020). A novel coronavirus outbreak of global health concern. Lancet, 395(10223), 470-473. https://doi.org/10.1016/S0140-6736(20)30185-9
WHO Commission on Macroeconomics and Health, Ed. (2001). Macroeconomics and Health: Investing in Health for Economic Development, World Health Organization.
Wu, J. T., Leung, K., & Leung, G. M. (2020). Nowcasting and forecasting the potential domestic and international spread of the 2019-nCoV outbreak originating in Wuhan, China: A modeling study. 227 Lancet (2020). PubMed PMID: 32014114. https://doi.org/10.1016/S0140-6736(20)30260-9
Yao, H., & Liu, M. (2020). Extended SIR prediction of the trend of the epidemic of COVID-19 in Italy and compared with Hunan, China. https://doi.org/10.1101/2020.03.18.20038570h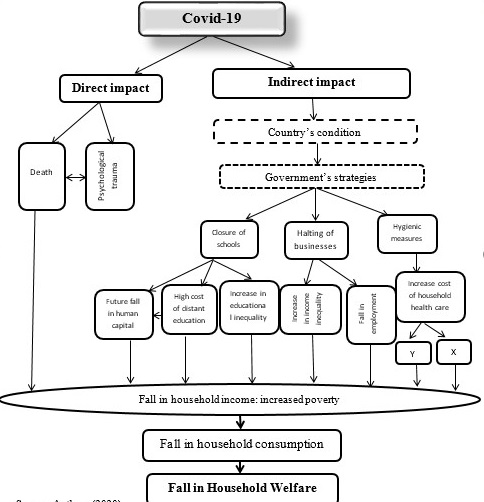 This work is licensed under a Creative Commons Attribution 4.0 International License.
Copyright for this article is retained by the author(s), with first publication rights granted to the journal.
This is an open-access article distributed under the terms and conditions of the Creative Commons Attribution license (http://creativecommons.org/licenses/by/4.0/).